EFFEKTE at KIT: Open Day 2019
A wide range of information, games and fun was provided at KIT's Open Day, which took place on 29 June 2019 at Campus Ost. Despite the enormous heat, the KCETA tent was always well filled with interested visitors.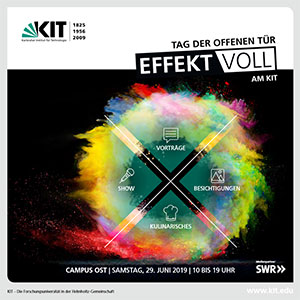 Our exhibits were very well received and our scientists gave detailed information to all interested people and reported about the latest research of KCETA:
Observing cosmic rays in a cloud chamber,
finding out everything about the KATRIN experiment with our KATRIN model,
finding out on the Teilch-o-Mat which elementary particle you are similar to,
creating an elementary particle button,
answering questions at our station of the children's knowledge rallye.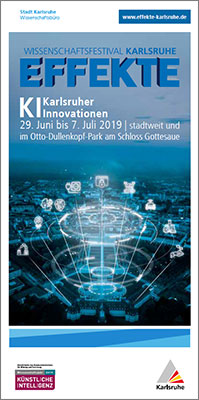 Wissensdurst – The Science Pub Event
Wednesday, July 3, Fettschmelze
The science festival EFFEKTE chooses very special places to deal with research topics. One example is the "Wissensdurst", a pub crawl in which KCETA scientist Andreas Haungs, among others, talked about the "Digital (R)Evolution of the High Energy Universe" in a cosy and convivial atmosphere.
Stimulating discussions, a relaxed atmosphere and refreshing drinks ensured that the thirst for knowledge of all curious people was quenched.